Ground turkey is a flavorful, lower fat and useful option as a substitute for other ground meats. You just have to know how to cook ground turkey and you'll be off and running!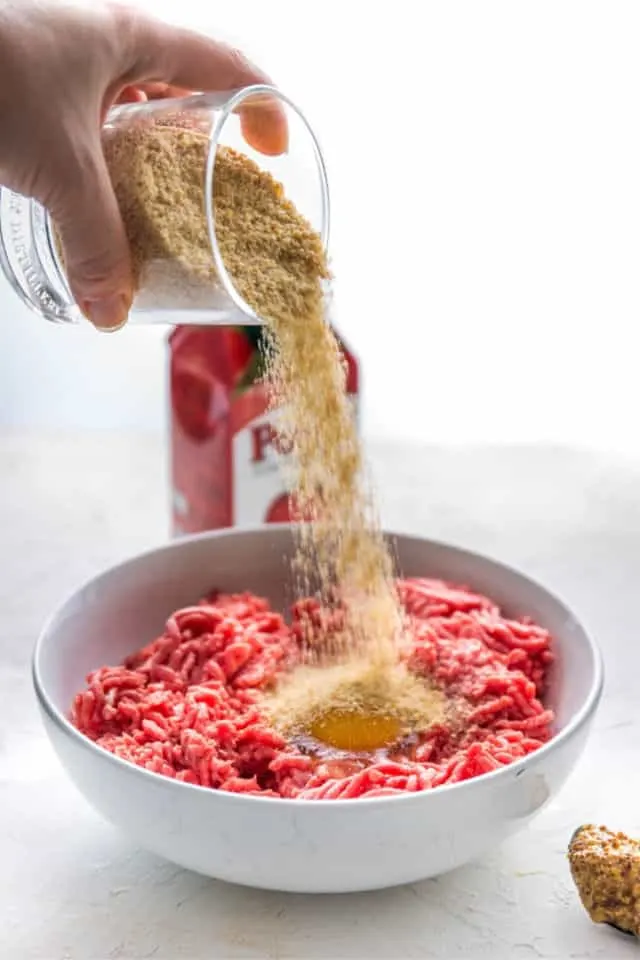 How to Cook Ground Turkey
There are so many ways to use ground turkey that you will be surprised. In fact, if you can imagine a use for a ground meat, then ground turkey is probably the answer! Way back when, I wrote a comprehensive guide for ground beef and most of what's in there holds true for ground turkey too!
But no worries, I won't send you off looking somewhere else for your answers, you can find them right here!
This recipe shows you how to cook ground turkey as a ground meat to use for recipes. You can also use ground turkey for burgers, simply pat it into a burger and use it that way for that purpose (you may want to mix in a bit of ground sausage for flavor).
Here's What You'll Need
Ground Turkey
2 Tbs of oil
Seasoning of your choice (salt, pepper, sage, cayenne, red pepper, thyme and Italian seasoning are all good options).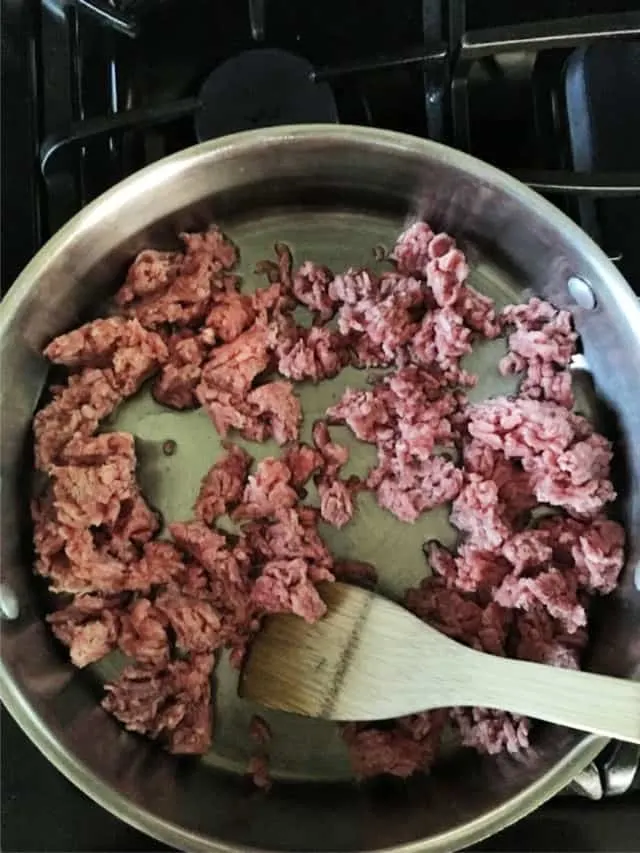 Here's How You Do It
Depending on your recipe, you'll want to break up your ground meat in a frying pan with the oil.
Add the seasonings and cook until it is brown all the way through.
Special Supplies
You won't need any special supplies, but I do love to cook my ground turkey on the stove top in my Lodge Cast Iron 10″ pan.
You can click the photo to go through to Amazon and compare prices, I am an Amazon affiliate and this is an affiliate link. Any purchase made through this link will give a commission to this website and be used in support of this website. Purchases this way do not affect your price however and I thank you!
What My Family Has to Say About This Recipe
Ground Turkey makes tacos, spaghetti and other recipes taste GREAT!

Van
Substitutions
You can substitute the ground turkey for most any other type of ground meat.
Substitute the seasonings listed in the recipe below with any of your favorite dried herbs.
Try vegetable oil, butter, EVO or any other cooking oil for the oil noted.
Frequently Asked Questions (FAQ's)
Can I Freeze Ground Turkey?
Yes! Definitely! Simply place into a freezer safe package, remove as much air as possible, write the date on the package and place in the freezer. Store for up to 3 months.
How Long Does Cooked Ground Turkey Last?
Keep covered in the refrigerator and it will last for up to 5 days.
Tips and Tricks
Ground turkey is a GREAT addition to other ground meats. It's perfect to add to ground pork or ground chicken to give those bulk or less fat.
Ground turkey holds together about the same as ground beef and is kind of sticky. You can directly substitute it for other ground meats.
When cooking ground turkey as a burger, allow the meat to completely sear and cook on one side before trying to turn. Otherwise, the meat will stick to the surface and tear the burger.
Break up the meat as you are putting it into the pan. Pinch off or break off small pieces to put in the pan, this makes breaking them up as they cook much easier.
Use this cooked ground turkey for all kinds of dishes including spaghetti sauce and taco pie!
Watch Me Make This Dish
(This is actually a video on breaking up ground beef, however, it is the same concept for ground turkey)
Can You Give Me A Hand?
Please leave a 5 STAR comment in the comment section below. That helps others to find the recipes at Loaves and Dishes. Thank you!!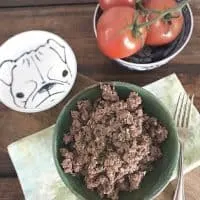 2

Tbs

oil

optional, based on fat content of the ground beef.

1

lb

turkey

ground

1

tsp

Kosher Salt

1

tsp

black pepper

1/2

tsp

garlic powder

1/2

tsp

onion powder
In a frying pan set over medium heat on the stove top, add oil to the pan if your ground turkey is very low fat. Use your fingers to break up and pull off pieces of the ground turkey chunk and put into the pan.

Once the ground turkey is all added to the pan, use a potato masher to mash and break up the ground turkey into fine and small pieces. Repeat this as the ground turkey cooks. Add the salt, pepper, garlic and onion powders. Continue to stir frequently until the meat has turned all brown.

Turn off the heat and proceed with whatever recipe you plan to use finely crumbled ground turkey for.
Turkey is very lean and you may not have any fat to drain, don't worry about this. 
Turkey will need more seasoning that beef, usually. 
Allow the meat to cook and sear well before trying to flip or turn. When the meat is completely seared, it will release from the pan, but before that, it will stick and it makes trying to brown the meat a bit nightmarish.
If you do not have a potato mashing tool, use a meat pounder or wash a can of soup very well and then use that instead.
Add salt to your ground meat before using it in your recipe, this will lend a lot of flavor to your recipe.
Nutrition Facts
How To Cook Ground Turkey
Amount Per Serving
Calories 175
Calories from Fat 108
% Daily Value*
Fat 12g18%
Saturated Fat 2g10%
Trans Fat 0.1g
Polyunsaturated Fat 3g
Monounsaturated Fat 6g
Cholesterol 58mg19%
Sodium 672mg28%
Potassium 180mg5%
Sugar 0.05g0%
Protein 17g34%
Vitamin A 45IU1%
Calcium 9mg1%
Iron 1mg6%
* Percent Daily Values are based on a 2000 calorie diet.
I am finding that as I get older, I have to forgive and forgive more and more. It makes me think that someone else is probably forgiving me a lot too without me knowing it. Thank goodness for the grace of every day people and of my Lord too.
Colossians 3:13
Bear with each other and forgive one another if any of you has a grievance against someone. Forgive as the Lord forgave you